Jet Dock Releases New PWC Floating Dock & Boat Lift Designs for 2008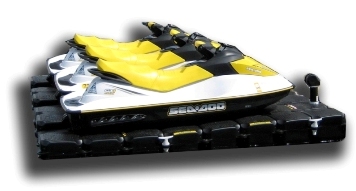 Everyday PWCs Now Topping 1000 lbs!
Jet Dock is proud to announce new 2008 PWC Dock designs to handle the largest, heaviest pwcs entering the market. With more buoyancy and most models with the built-in winch tower, the 2008 Jet Dock pwc dock designs will comfortably dry-dock even the new 4-stroke, 3-passenger pwcs that weigh in excess of 1,000 pounds! Already have a Jet Dock? Don't worry - all Jet Docks are fully modular, changeable and expandable!
FOUR-STROKE, 3-PASSENGER PWCS NOW CAN EXCEED 1,000 POUNDS! Currently, the movement in the market place is for faster, more stable and powerful PWCS. These watercraft have heavy 4-stroke low-emission engines, large deep-V hull structures, high fuel capacities and expanded, generous seating and storage capabilities on board. That means they're heavier - lots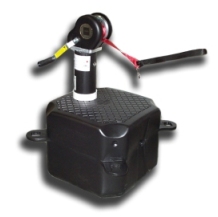 heavier. Yesterday's stand-up Jet Ski's(R) weighed as little as 200 pounds. The first sit-down pwcs were around 400 pounds, then grew to 500, 600 and 700 pounds. Recently, the 4-stroke models, fully fueled, are easily 800, 900, even 1000 pounds! Jet Dock has added buoyancy in the stern of our pwc docks to handle the weight, and most models now come with our trusted, heavy-duty winch tower system located in the bow of the dock. These towers have been in service with our Boat Dock systems for years on stern drive boats up to 6,000 pounds. So you KNOW it will work for your pwc!
GOOD NEWS FOR CURRENT JET DOCK OWNERS. Getting a new, heavier craft? Your existing Jet Dock design may very well work. Test it out on your own to see if the stern SURFACE of your Jet Dock is entirely above-water while the craft is fully dry-docked. Or
Contact Us
in advance and we'll check our records. Need more buoyancy? No problem. Your Jet Dock can be upgraded in a number of ways. Your Jet Dock representative will provide a knowledgeable recommendation. No need to toss your dry-docking solution and start over. Imagine if you had purchased a limited capacity
davit system
or a
one-piece drive on dock
that isn't modular like Jet Dock. You'd own a white elephant!
Most Jet Dock models for 2008 will come complete with our Winch Tower System. The winching mechanism is raised higher above the deck to give you the correct pulling angle to winch up disabled craft (or when you drive-up short). And the Winch Tower is fully convertible for use on a Boat Class dock system, so if you sell your pwcs someday and move up to a boat, you've already got this important component!
So, whether you already have a Jet Dock PWC design that you would like to upgrade for a new craft, or if you are still in the market for your first PWC Dock, you can be assured that Jet Dock has the dock you will need today, and the flexibility that you will need in the future.
Create Your Own!
By answering a few quick questions we will be able to tell you which dock or boat lift is the perfect fit for you.
Start Now! ▶
Tools