Order of Performance Air-Lift Systems Delivered to Ecuador
In January 2009, Jet Dock delivered eight (8) 38 ft. Performance Series Floating
Boat Lifts
to the Cuerpo de Guardacostas of Ecuador.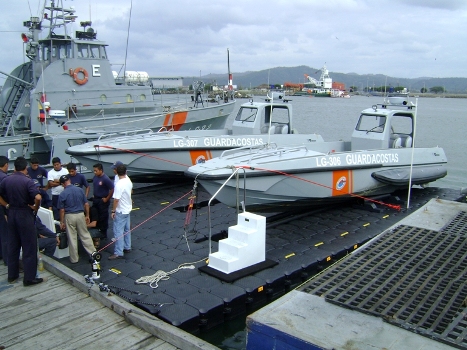 The 38 ft Performance Series Docks will be used by the Cuerpo de Guardacostas for dry-docking 14,000 lb. high speed-interceptor boats using surface drives. The docking systems are 41' 8" long, 15' wide and two (2) each will be located at (4) four strategic locations along the coastline of Ecuador.
The Cuerpo de Guardacostas purchased the Performance Series Docks to both maintain the assets, as well as keep the vessels ready on the water at all times. This new high speed fleet of high speed interceptor boats will be used to control drug trafficking and prevent piracy.
Create Your Own!
By answering a few quick questions we will be able to tell you which dock or boat lift is the perfect fit for you.
Start Now! ▶
Tools