Locations Menu
Floating Boat Lifts & Docks for Saltwater Regions
Maintaining the boating lifestyle in a saltwater area presents its own set of unique challenges. If you are not equipped with the right kind of boat lift or even worse, no boat lift at all, you can be putting your investment at risk. This can cause a lot of unneeded time and money spent. JetDock floating boat lifts and docks are designed to withstand the harsh environment of saltwater.
Saltwater fluctuation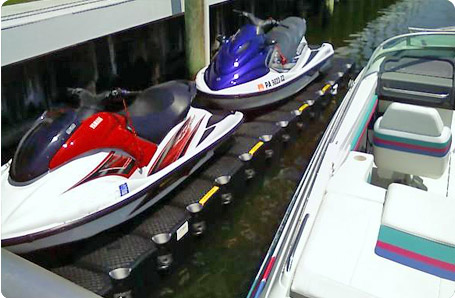 Fluctuating saltwater can leave traditional boat lifts, davits, boat hoists and elevator lifts in an inconvenient and vulnerable position, either too high or too low to the water's level. A floating boat lift, together with the use of a special mooring system work in any fluctuating water levels. This allows you to safely board and launch your boat or PWC in water levels that are constantly changing. No matter where your water level is at any given moment, with JetDock, you will always have a safe boarding platform right at the water's edge.
Reduce watercraft damage
Saltwater environments can literally destroy boats and PWCs with fouling, corrosion and rust. To avoid damage to your watercraft, JetDock's floating saltwater boat lifts are designed to keep your investment maintained. Our boat lifts and docks are designed to withstand rusting, corrosion, deterioration due to marine growth, destructive UV rays, damaging winds, waves, and currents. Where traditional boat lifts fail, JetDock has a solution with our patented technology, durable material, and low profile design.
Protection against corrosion & rust
JetDock's saltwater boat lifts and boat docks also help protect PWCs and boats from fouling, corrosion and rust. Watercrafts are docked high and dry on a safe and stable floating dry-docking system, free from exposure to the elements that saltwater presents.This significantly reduces the need for maintenance on your boat lift as well as your watercraft.
The JetDock guarantee
Some boat lift manufacturers have to fabricate a special saltwater boat lift edition. Not at JetDock. All of our floating boat lift and floating boat dock systems are designed for the saltwater environment. The JetDock floats are made of a high-density polymer HDPE ( Material Safety DataSheet) that is impervious to sun, salt or marine growth, with no rotting wood or corroding metal connections to consider. JetDock's Lifetime Warranty guarantees it.
Find out which of our boat lifts or boat docks fits your needs and get started today.


Create Your Own!
By answering a few quick questions we will be able to tell you which dock or boat lift is the perfect fit for you.
Start Now! ▶
Tools