Pontoon Lifts
Interested in Jet Dock's Pontoon Floating Boat Lifts? Customize your pontoon lift with our dock finder tool or
call us at 1-800-538-3625 to speak with a knowledgeable Jet Dock representative.
Pontoon Boat Lifts and Floating Pontoon Dock Solutions
Jet Dock's popular pontoon boat lifts store your craft entirely out of the water, whether you have a twin-hull or tri-hulled pontoon boat. These pontoon lifts areideal for outboard and jet-drive powered watercraft. Portable and expandable, our pontoon boat lifts can be used in any water level, with or without an existing structure. And all of our pontoon docks are maintenance-free and come with a limited lifetime warranty.
Pontoon Boat Dock Modular Design
Jet Dock's pontoon boat lifts are expandable and interchangeable, making them extremely versatile. Expanding your lift to include a pontoon boat dock makes it safe and easy for you to dock your watercraft and use your pontoon boat lift as a convenient walkway system. And due to the easy modular design, our pontoon boat docks can be quickly expanded upon to custom fit your set up. Planning to upgrade your pontoon boat for a larger style? Not a problem! Simply add to your current floating pontoon boat lift configuration with no special tools required. It's really that easy.
Designing Your Floating Pontoon Dock and Lift
The exact design of your new pontoon dock and lift will be determined by the distance from the center between the hulls. We include everything you need for easy installation with our pontoon boat lifts,, including the winch, fasteners, launch systems, structural beams and more. Air-assisted packages can be added to our systems for pontoon boats and catamarans for overall ease of use. For more information, exact dock design or help ordering, we have representatives waiting to help. Give us a call at 1-800-538-3625.
Standard Pontoon Lift Features
Assembled & ready to use
Lifetime limited warranty
Durable, high-density polyethylene construction
Patented drive-on ramped design
Patented modular, changeable configurations
Non-skid surface
Expandable walk-around space
Perimeter tie-off cleats
Provisions for security systems
Dry, self-bailing and water-draining deck
Bow-retention winch turret
Patent-pending submersible deck technology
Pontoon Boat Lift Diagrams & Technical Schematics
For product specifications and to view a larger image of our pontoon lift, select the thumbnail below. Have a question or need additional information regarding our pontoon boat lift design? Reach out to a Jet Dock representative today.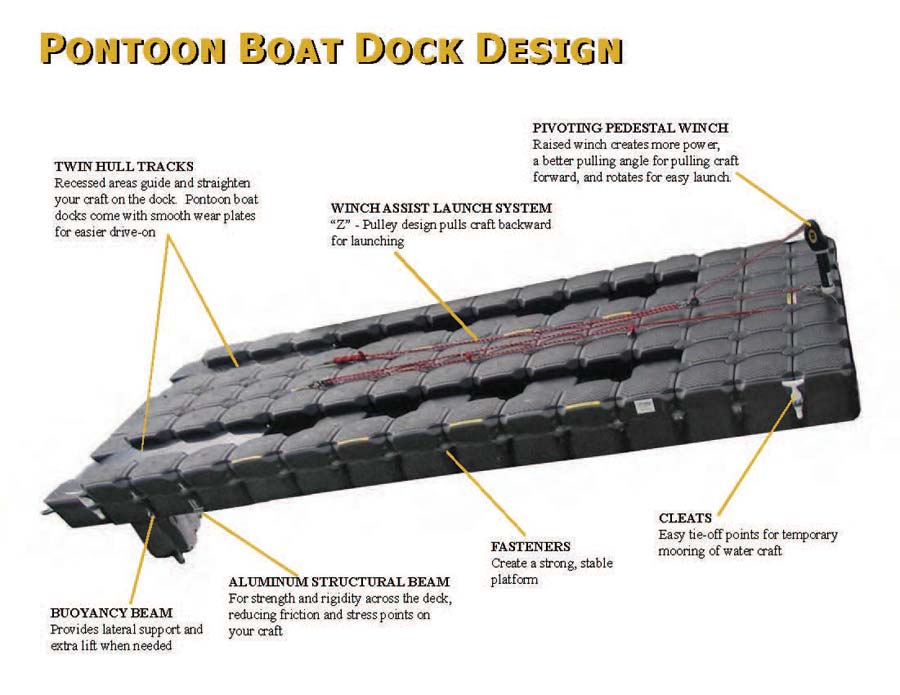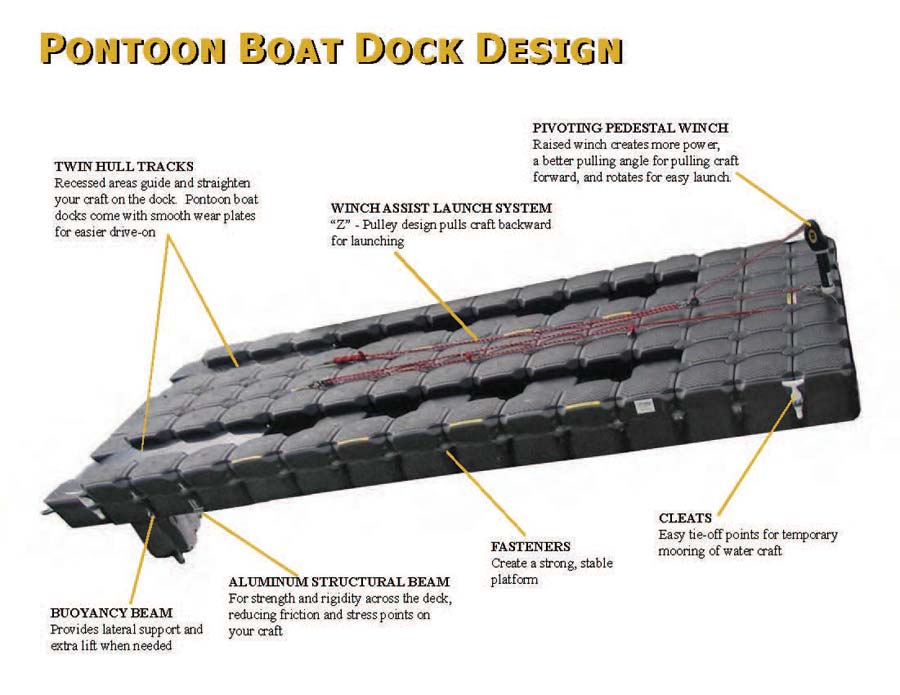 Pontoon Boat Lifts Online Catalog
Create Your Own!
By answering a few quick questions we will be able to tell you which dock or boat lift is the perfect fit for you.
Start Now! ▶
Tools