Knowledge Center Menu
5 facts about floating boat lifts you need to know
Summer is officially here, which means that life on the water is in full swing. The roar of boat engines and spray of personal watercraft can be seen and heard from docks and shores all over, officially marking the prime boating season. But while boating is meant to bring enjoyment and fun to the season, it also means a lot of maintenance and care to ensure you continue to have boating seasons for years to come. Properly storing your boat when not in use is not only good practice in keeping your boat secured and in place - it also helps keep the boat in proper condition both in the short term and long term. Keeping your boat secure above water can extend the life of the boat's coating and can prevent undue water absorption. You can read more reasons on the benefits of properly storing your boat on a lift in our Do I Need a Boat Lift article.
Okay, so you have assessed that you indeed need a boat lift - but what kind of boat lift should you choose? There are several types of boat lifts that can get the job done. Although most boat lifts do the same thing, not all are created equally.
Floating boat lifts are a great alternative to big, clunky, steel lifts. Floating boat lifts are the new innovation in pwc lifts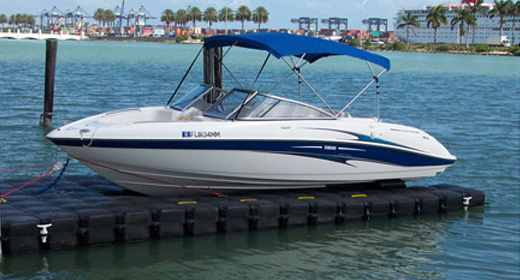 that are inexpensive, easy to use, and don't require electricity or manpower to operate. Here are some benefits and facts to know when purchasing a floating boat lift.
Safety features
Safety is very important when operating a boat lift system. Traditional boat lifts require a lot of moving parts made of metal. If not properly maintained, parts can become damaged or broken, causing a potential for malfunction and a risk of injury.
Floating boat lifts are made of plastic and don't require the heavy machinery that traditional lifts do. The best Boat lifts that float give you plenty of room to enter and exit your boat or pwc so you won't have to worry about falling in the water or getting injured.
Portability
Floating boat lifts are extremely portable. They're easy to assemble and take down and don't require special tools. Traditional boat lifts that use hydraulics are not portable and cannot easily accommodate bigger water crafts if necessary. Floating boat lifts have the convenience of adding additional modules to fit bigger boats or other watercrafts. Floating lifts are also easily moved, stored, and transported.
Maintenance free
Owning a floating boat lift versus a traditional lift will save you time and money. Floating lifts don't have motors, electricity, cable gears and nothing to grease or remove rust from. This means that your floating pwc boat lift will always work. Traditional lifts require a lot of moving parts and often times a lot of time and money to upkeep. Floating boat lifts require almost no maintenance except for the occasional scrub down. You can also store a floating boat lift indoors during winter months or seasons when it's not in use.

Adapt to any water levels
Floating lift systems work in any water level. You can customize your lift based on the average height of the water on shore and maximize performance. Traditional lifts don't accommodate to rising and falling water levels. Unexpected high water levels could potentially damage a traditional lift. Since floating boat lifts float above the water and are made of plastic, they're built to flow with the current and adapt to changing water levels.
Save time and money
All of these benefits of floating boat lifts save time and money. Being able to put money in your pocket and spend more time enjoying your pwc is essential. Traditional boat lifts can become costly for installation, maintenance, and eventual replacement. Floating boat lifts are a much more economical choice that eliminates installation and almost all maintenance time. You will also never have to replace or buy a new boat lift if you move. Simply disassemble and take it with you. Enjoy life more with a floating boat lift.
Convinced that a floating boat lift or pwc lift can save you time and money? Upgrade to JetDock's floating boat lifts today and build your own custom lift to fit your needs. We produce the best boat lifts that float with our patented designed that is safe and floats in any water level. Choose from static, air assisted, and multi-hull boat lifts. Spend less time messing with boat maintenance and more time on the water today!
Create Your Own!
By answering a few quick questions we will be able to tell you which dock or boat lift is the perfect fit for you.
Start Now! ▶
Tools