Performance Series AquaPad Systems for Moose Boats
In June 2007, Jet Dock delivered (2) Custom 37ft Performance Boat Docks to the Port Authority of New York / New Jersey Police; to be used with their jet driven Moose Boats.
The Port Authority's Moose boats at 37.5ft length, 13.5ft beam, and tipping the scales at over 21,000 pounds, are the heaviest to date to be used on a Jet Dock. The Custom 37ft Performance Boat Dock designed to accommodate this vessel is 43' 4" Long x 20' Wide
(Article Continues Below Photo)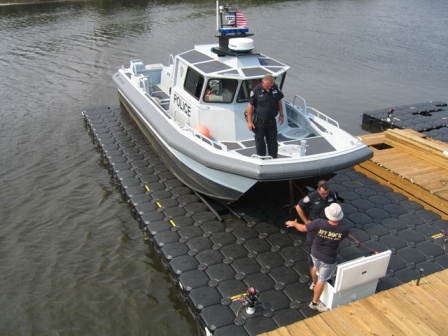 A Member of the Jet Dock Corporate Installation Crew Instructs
on the Proper Use of the System
Create Your Own!
By answering a few quick questions we will be able to tell you which dock or boat lift is the perfect fit for you.
Start Now! ▶
Tools