NEW PRODUCT - JDSI Introduces New Handrail System
Many of our customers have been inquiring about handrail systems for our docks in the past year. The calls for this new product have really increased since we introduced our new beige modules for walkways and floating piers, and increased our presence in the parks and recreation market.
It took a long time to develop a system that we thought would meet the standards of both our customers and our company. The system had to be strong, flexible in its application, and easy to install. After extensive R&D and field testing, we have come up for a solution for our customers that we are proud to offer.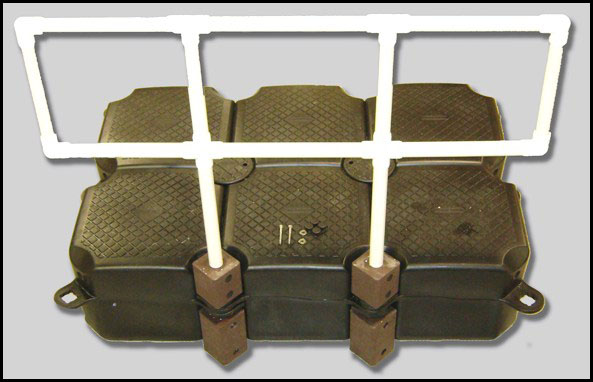 The New Jet Dock Handrail System
This new system consists of a strong steel interior that is covered by a durable PVC outer shell that will hold up against the elements. The handrails come complete with all of the mounting hardware that is required, and are available in different lengths to accommodate almost any customer's needs.
The system is pre-assembled at our factory, so that installation will be simple. If you have an existing Jet Dock, all you have to do is remove the fasteners where the railing will mount, slide in the railing, and fasten it with the included mounting blocks. If you are purchasing the handrail system with a new order, we will leave to dock open in the spaces where the handrails will mount for easy installation.
If you would like further information on this new handrail system, please contact your Jet Dock sales advisor at 800.538.3625.
Create Your Own!
By answering a few quick questions we will be able to tell you which dock or boat lift is the perfect fit for you.
Start Now! ▶
Tools