Knowledge Center Menu
Saltwater Fishing Tips for Newbies
Getting ready for your first saltwater fishing trip? Saltwater fishing is fun and can offer more of an adventure compared to freshwater fishing. If it's your first trip, make sure to follow these saltwater fishing tips we highlight below!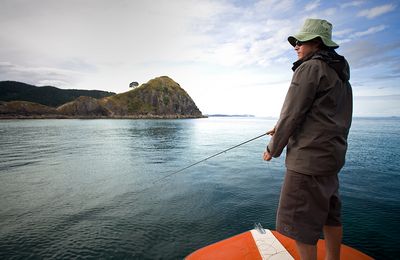 Do your Homework on Saltwater Fish Migration Patterns
Before you leave for your saltwater fishing trip make sure you do your research on the area you're planning on fishing near. Fish have specific migration patterns, and if you are looking to catch a migratory fish, you'll have to make sure you're going at the right time of year.
For example, Florida's prized sport fish the tarpon likes water that is 72 degrees. When the temperature drops or reaches past 82 degrees, the tarpon will migrate to waters with a more suitable temperature.
If you are looking for a particular fish like the tarpon, we suggest researching migration patterns and planning accordingly to these patterns. You might even find the best success by fishing in their migration path.
Best Bait for Saltwater Fishing
Saltwater fishing is a different ballgame than freshwater fishing, and you must prepare differently as well. Freshwater and saltwater fish aren't too different in regards to live bait being the best option; the only difference is the type of live bait you would use to entice these fish!
Some of the best live bait options for saltwater fish includes shrimp, crab, mussels and squid. Of these options, shrimp is considered the most versatile. Make sure to bring a bait bucket onboard full of ice to keep the shrimp alive. While fish are known for going for dead shrimp bait, live bait is still considerably more successful.
Stock up on the Best Saltwater Fishing Equipment
Just like you have to use a different type of bait, you might have to stock up on various fishing equipment specially made for saltwater fishing. For example, there are specific fishing rods, reels, jig heads and more!
The fishing rods designed for saltwater use are composed of either graphite or fiberglass. Graphite roads are known for being more sturdy and sensitive while fiberglass is known.
Or if you are looking for saltwater lures, here's a guide on the top 10 saltwater fishing lures and stock your tackle box with these lures.
Lastly, don't forget the life jackets either! Saltwater fishing might be some of the deepest water you'll be fishing in yet, so don't forget to have a life jacket for everyone on your boat.
Besides the saltwater fishing equipment on the boat consider bringing a portable boat dock with you to make docking your boat easier when you are done saltwater fishing for the day! So you can spend more time on the water, rather than docking your boat.
From all of us here at Jet Dock we wish you a fun and safe saltwater fishing trip.
If you have questions about portable boat docks and how to prepare for your saltwater fishing trip? Contact one of our specialists today!
Create Your Own!
By answering a few quick questions we will be able to tell you which dock or boat lift is the perfect fit for you.
Start Now! ▶
Tools