Knowledge Center Menu
Your Guide to Summer Boat Storage Options
During boating season, the goal is to get out on the water as often as possible in order to get the most out of your boat ownership. So, what dock storage option works best? When your watercraft isn't in use, there are several summer boat storage options to choose from.
Taking into account where you boat, how big your boat is and how much you want to spend on storage, you'll be able to determine which dock storage option works best for you. The following are some of the top choices for summer boat storage.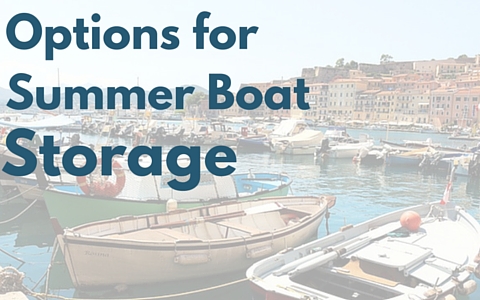 Trailer storage
If you have a small or mid-size boat, storing it on a trailer is inexpensive and one of the best ways to have access to your boat at a moment's notice. Trailers can even double as a hauling vehicle and safe summer boat storage. If your boat is on a trailer, it can be stored in a garage, a secure storage yard or a warehouse building.
It's important to make sure that your boat has a slipcover on when being stored to avoid any damage to the inside or electronics. Choose a slipcover that won't trap moisture inside and create a bad odor or even mildew.
Dry-rack storage
Summer boat storage using the dry rack method is becoming more popular because of the ease of use. Small and mid-size boats can be dry stacked up to 32 feet. Marinas often offer dry-rack storage that uses a forklift to lift boats into racks that can be many stories high. They're often stored inside a building for security reasons and to control temperature and precipitation. When you're ready to take your boat out on the water, the marina will get your boat down and even fuel it up if necessary. When you're done with your boat, drop it off and the marina will wash it down and re-rack it.
One of the main disadvantages of dry-rack storage is the inability to have access to your boat any time of the day. Marinas aren't open 24/7 and because you have to call ahead in order to get your boat ready, last-minute trips are harder to plan. If you like to fish and enjoy getting out on the water by dawn, dry-rack storage can hinder your outings, especially if you forget to call the marina the night before.
Wet Docking
Whether you have waterfront property or store your boat at a marina, wet docking is a viable option, especially if you have a large boat that can't be dry stacked or that's difficult to trailer. Wet docking your boat can be the quickest way to get out on the water with minimal prep work.
Although wet boat dock storage is a quick way to get out on the water, it has more disadvantages than advantages. Leaving your boat in the water all summer long can cause damage to your boat. It's constantly being subject to unpredictable weather, ultraviolet light and high waters. Wet docking can also be extremely costly if storms cause damage to a prop or strut. Wet boat dock storage should only be used when there are only a few days between activity
Boat Lift Storage
Storing your watercraft on a floating boat lift is one of the best ways to keep your boat dry and while also having access to it any time of the day. It's the most convenient and inexpensive boat dock storage option, with minimal prep work and maximum time spent on the water.
If you plan to store your boat at a marina, most boat lifts can't be used because they have heavy metal parts and require modification to the marina's infrastructure. In most cases, you will have to have prior approval for your boat lift and there may be several restrictions in place. That's why there are several things to consider when selecting a boat lift for your summer boat storage. Floating boat lifts, on the other hand, are one of the few types of dock storage that is widely accepted at most marinas due to the fact that there is no need for drilling, dredging or changes to the marina.
Typically, floating boat lifts don't have any mechanical parts and don't require maintenance. Be sure to check with your marina for boat dock storage rules and regulations before bringing your boat lift.
Shop Floating Boat Lifts From Jet Dock
Whether you have waterfront property or use boat dock storage at a marina, using a floating boat dock is the best option for summer boat storage.
Jet Dock features a patented design that doesn't require any electrical or mechanical parts and docks your boat completely out of the water. It can easily be stored indoors during the winter or harsh weather. All of these reasons and more make floating boat lifts the best choice for storing your boat this summer. Design your custom boat lift today or contact us for more information.
Create Your Own!
By answering a few quick questions we will be able to tell you which dock or boat lift is the perfect fit for you.
Start Now! ▶
Tools