Knowledge Center Menu
Maintaining Your Pontoon with the Help of a Pontoon Boat Lift
Owning a pontoon boat is an experience that more and more boat enthusiasts are taking part in. With their ease of operation, powerful performance, ability to hold multiple passengers and big deck for entertaining, the pontoon boat makes for the ultimate craft for partying and enjoying life on the water.
It is of no surprise that pontoon boats make up one of the fastest growing segments in the boating industry with over 800,000 registered in 2011 according to the U.S. Coast Guard. But owning one, of course, comes with the responsibility of taking care of your pontoon boat.
The following is a basic guide to pontoon boat maintenance with added tips as to how a pontoon boat lift may make lake life a lot easier. Keep in mind, this guide is in no way exhaustive and you should consult your boat manufacturer for full maintenance instructions.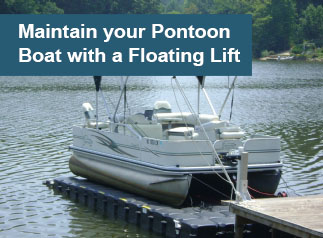 Pontoon Boat Maintenance Guide
A pontoon boat is part of the multi-hull category of boats due to its design of two pontoons serving as the boat's hulls and a main platform serving as the deck. Much like with other types of vessels, pontoon boat maintenance includes a lot of preventative measures to keep the boat from experiencing damage and corrosion. Some preventative measures include:
Regularly checking pontoons for dents and holes
Keeping your boat covered when not in use to avoid sun damage
Cleaning algae and other build-up off of the bottom of your pontoon boat
Regularly waxing your boat
Flushing the engine after use if your pontoon boat is used in saltwater
How a Pontoon Boat Lift Can Protect Your PWC
Even though pontoons are made to float, docking your boat with a pontoon boat lift can help tremendously with many of these maintenance tasks and keep your pontoon boat in excellent condition.
Storing your pontoon boat on a lift rather than just having it docked in the water prevents damaging corrosion, helps keep your boat clean and allows you to easily spot any damage to your pontoon. If there did happen to be any punctures to your pontoon boat, keeping your boat out of the water and on a lift would allow for any water to drain out of your pontoons, rather than fill up and weigh down your boat.
Having a pontoon boat lift also allows you to avoid issues of scraping your pontoon against rocks and the bottom of the water. While it may be okay to just float your pontoon boat in a dock most days, low water levels could turn this strategy into a costly one. With a floating pontoon lift solution, the surface you dock your boat on rises and falls with the water level - leaving your boat unscathed. Additionally, the lift also serves as a walking platform around your boat, making inspection and cleaning a breeze.
Ready to protect your Pontoon Boat?
If you are one of the many people who enjoy recreational boating on a pontoon boat, consider investing in a floating boat lift designed for a multi-hull boat. Protect your party pontoon and keep it running for years to come with the maintenance benefits a floating lift offers. Jet Dock offers one of the easiest and most portable multi-hull lift solutions available. Contact us today to protect your investment and make the most of your time on the water.
Find Your Dock Now
Create Your Own!
By answering a few quick questions we will be able to tell you which dock or boat lift is the perfect fit for you.
Start Now! ▶
Tools