Knowledge Center Menu
Floating Dock Plans – What Shape of Dock Should I Use?

When it comes to purchasing floating boat docks it is often important to know exactly how you plan to use it in order to request an applicable floating dock plan that meets your needs. Many companies install statically designed boat docks that are unable to be modified. Fortunately, with the modular design of our floating boat dock systems, you are able to simply transform your dock into a completely different shape with no power tools or special skills required.
Even though you can make your "T"- shaped dock into a "U" - shaped dock in no time, we thought we would help you by giving you some information on how various floating dock plans and shapes are commonly utilized. Listed below are popular floating dock shapes and their applications:
Conventional or Straight Floating Boat Docks: This dock plan is usually utilized for a variety of water-based recreation activities. With its simplicity and spaciousness, family or friends can sunbathe, fish, and play safely with plenty of room. The simple design also allows multiple mooring spaces for PWC's and various water crafts to tie on to.
L-Shaped Floating Docks: L-shaped docks are typically used when a boat owner possesses a variety of different watercrafts. This floating dock plan creates three spaces for boats to tie on to. For example, one could tie on a PWC, a pontoon boat, and larger motorboat in the various spaced that have an applicable length.
T-Shaped Floating Docks: This type of dock is commonly used when a boat owner prefers to have two mooring locations that are protected with a single location to quickly load and unload passengers. The two enclosed spots help to shield boats or other personal water crafts by excluding an open side that could be vulnerable to an accident.
U-Shaped Floating Docks: This dock plan is frequently utilized by serious boat owners that want to provide as much protection to their boat as possible without compromising the ability to dock their boat with ease. The inside of the "U" gives your boat a guard from other boats on both sides of your boat. The outside of the two dock sides could then be used as mooring locations for the various other watercrafts you own.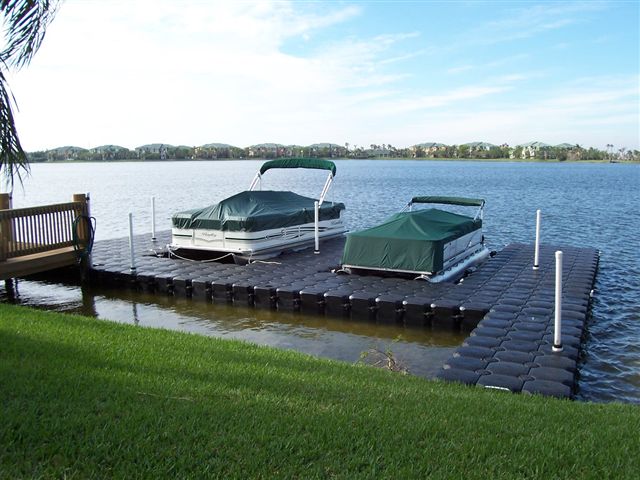 Our floating docks are not permanent. So, do not stress out if you do not like your design. With our patented design you can modify your existing dock shape with ease. If you have any questions about our floating boat docks please contact us.
Create Your Own!
By answering a few quick questions we will be able to tell you which dock or boat lift is the perfect fit for you.
Start Now! ▶
Tools