T-Shaped Floating Docks & Walkways
The Conventional T-Shape Floating Dock & Walkway is 5 ft. wide by 20 ft. long plus 5 ft. wide by 18'4" long. This floating dock features a modular, changeable design that allows floating walkways of any size and style to be created. Perimeter tie-off cleats included with this products. Used for many applications including speed boats, pontoon boats and personal water crafts. The t-shape floating walkway is also great for loading and unloading passengers with the non-skid surface. Learn more about ordering floating docks by calling 1-800-538-3625 or email us today.
Standard Walkway Features
Assembled & Ready To Use
Lifetime Limited Warranty
Durable High Density Polyethylene Construction
Patented, Modular, Changeable Design That Allows Configurations Of Any Size & Style.
Non-Skid Surface
Expandable Walk-Around Space
Perimeter Tie-Off Cleats
Provisions For Security System
Dry, Self-Bailing, Water-Draining Deck
Diagrams & Technical Schematics
Select the thumbail to view larger image.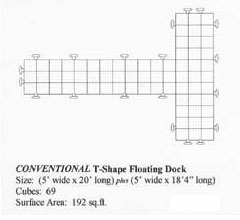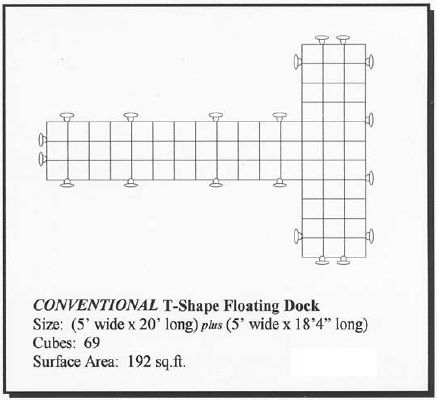 Other Floating Walkways
Create Your Own!
By answering a few quick questions we will be able to tell you which dock or boat lift is the perfect fit for you.
Start Now! ▶
Tools