L-Shaped Floating Walkway Systems
Jet Dock's L-Shaped Floating Dock makes it easy to access your boat while it's docked. The non-skid surface allows you to safely board your watercraft so you can enjoy a day dockside or on the water. The ample size of the L-shaped floating walkway gives you plenty of room to spare so you can dock multiple watercraft with ease.
Create a Custom Boat Dock With Our Versatile L-Shaped Floating Walkway Systems
Our standard L-Shaped Floating Dock is 5' wide by 20' long plus 5' wide by 15' long and comes pre-assembled and ready to use. The modular L-shaped floating dock design is completely versatile and can be updated as needed to suit your needs. This flexible design allows you to create floating L-shaped docks of any size and style. Built-in flex motion allows boats up to 50' in length to gain access to the dock surface.
Enjoy a Low-Maintenance L-Shaped Dock
One of the best features of our L-shaped floating walkway is that it's virtually maintenance-free. This allows you to spend less time worrying about your dock and more time enjoying your boat.
Spend More Time on the Water
Dock maintenance doesn't have to be a chore thanks to the low-maintenance design of our L-shaped docks. Replacing rotten wood and staining boards are things of the past. The dock floats are made from a durable high-density polymer that will not crack or rot from sun or water exposure. A simple hose-down is all it takes to keep your L-shaped dock clean. You'll never need to apply anti-foul paint.
L-Shaped Floating Walkway Dock Features:
Assembled & Ready To Use
Lifetime Limited Warranty
Durable High-Density Polyethylene Construction
Modular Design That Allows Configurations of Any Size & Style
Non-Skid Surface
Expandable Walk-Around Space
Perimeter Tie-Off Cleats Included
Provisions For Security System
Dry, Self-Bailing, Water-Draining Deck
Learn more about ordering an L-Shaped Floating Dock by calling 1-800-538-3625 or contact us today. Our Dock Advisors are happy to help you find the perfect L-shaped dock for your needs.
L-Shaped Dock Diagrams & Technical Schematics
Select the thumbail to view larger image.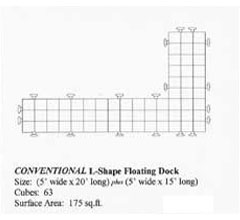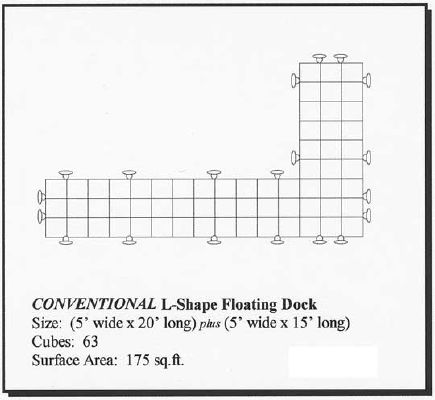 Other Floating Walkways
Create Your Own!
By answering a few quick questions we will be able to tell you which dock or boat lift is the perfect fit for you.
Start Now! ▶
Tools