U-Shaped Floating Dock & Walkway Systems
Our floating U-Shaped Boat Dock features two 5' wide by 20' long sections and one 6'8" wide by 20' for ample space for multiple watercraft. They can be used as stand-alone docks or with existing traditional docks. Our patented modular system allows you to create the U-Shaped Floating Dock of your dreams with only a few simple tools.
Create a Custom U-Shaped Boat Dock
Customizable floating docks are our specialty. Our innovative design allows you to craft U-shaped floating walkways of any size and style. You can easily change configurations or add walk-around space if needed. Installing or updating is simple and does not require any special skills or tools.
U-Shaped Floating Walkway Details
Built with robust materials, the U-shaped floating dock is sure to be a lasting investment for all your aquatic recreational activities. Our U-shaped docks won't fade in the sun or rot, and they are virtually maintenance-free so you can spend more time enjoying the water.
Carefree U-Shaped Dock Design
Goodbye constant, tedious upkeep — hello low-maintenance dock ownership. Taking care of your floating walkway is easy thanks to the trouble-free design of our U-shaped floating boat docks. Rotten boards, no-foul paint and hours spent staining wood are gone forever. Algae and barnacles do not affect the dock's buoyancy, so no scrubbing is necessary. The U-shaped dock floats are made from tough materials that are unaffected by sun or water exposure. Just use a hose to spray off the surface to keep your dock looking new. Our U-shaped floating docks are designed to withstand extreme weather conditions and can be left in place year-round.
Jet Dock's U-shaped floating dock boat lifts and walkway systems are designed to keep your watercraft docked and out of the water. Here are just some of the benefits of our U-shaped docks:
Pre-Assembled & Ready To Use
Lifetime Limited Warranty
Crafted of Durable HDPE Materials
Water-Draining Deck
Slip-Resistant Surface, Even When Wet
Ability to Easily Add Walk-Around Spacee
Suitable for All Water Depths
Perimeter Tie-Off Cleats Are Included
Security System Set-Up Ready
Sequentially Flexes for Smooth Docking and Launch
Patented Modular Design That Allows Customized Configurations
Find Your Ideal U-Shaped Floating Walkway
Our Dock Advisors are here to help you choose the best U-shaped dock for your needs. Learn more about our U-shaped floating boat dock systems by calling toll-free at 1-800-538-3625, or contact us online today.
U-Shaped Dock Diagrams & Technical Schematics
Select the thumbnail to view larger image.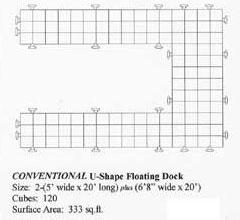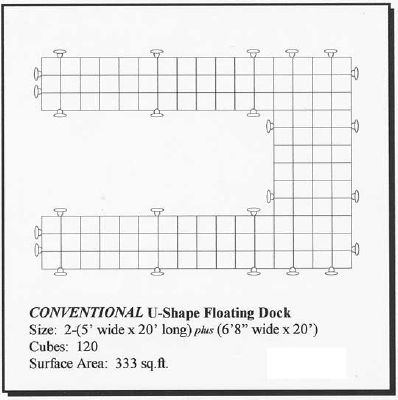 Other Floating Walkways
Create Your Own!
By answering a few quick questions we will be able to tell you which dock or boat lift is the perfect fit for you.
Start Now! ▶
Tools