Knowledge Center Menu
Top places to watch fireworks from the water this 4th of July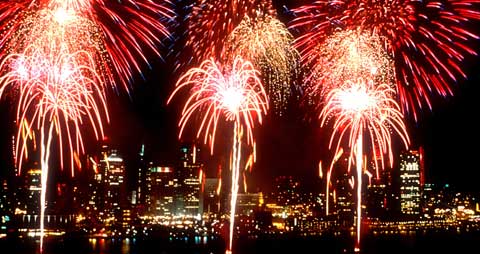 The 4th of July is right around the corner and most of us will be heading out to picnics, family outings, and getting some boating in during the long holiday weekends. Everyone has their own holiday tradition when it comes to celebrating our country's independence, but one thing is sure to be a constant no matter what the plans are: fireworks. Fireworks are one of America's favorite pastimes. The first fireworks displays lit up the skies of Philadelphia on July 4th, 1777 - the first Independence Day celebration . Fireworks are a symbol of American pride and the hard fought battle it took to gain our Independence.
So where is the best place to watch fireworks? On the water of course!. What better way to celebrate another year of freedom than sitting on the beach, laying on your dock, or relaxing on your boat, watching a spectacular light show. Here are some of the best beaches and shorelines to watch fireworks for the 4th of July.
Lake Tahoe
Known for their spectacular light show, Lake Tahoe is a premier destination to watch fireworks from your boat or dock. If you're in need of a boat you can board the lake's luxurious yacht, Safari Rose,and enjoy food, drinks, music, and of course, fireworks.
For something a little more traditional, hitch up your boat and head to Nevada Beach. Enjoy picnics, barbeques, relaxing out on the dock, and boating, The shoreline leads down to the waters of Lake Tahoe, making it's the perfect place to catch the fireworks.
James River at the Virginia Peninsula
Every year, the Virginia Peninsula puts on a breathtaking fireworks show for July 4th. This year is no different. You can watch from the shores of James River, or head out on your boat for a better view. Before the fireworks, families can enjoy food, drinks, free games for the kids, and live music.
Pleasant Harbor at Lake Pleasant
Lake Pleasant is a hidden gem for a great fireworks display. Known for its boating, water sports, and camping, Pleasant Harbor in Arizona is the place to go to enjoy fireworks by boat, harbor, or right on the shoreline. They offer kid-friendly activities before the show and live music.
Put-In-Bay Downtown Harbor
Hangout on the shores of Lake Erie at Put-In-Bay and enjoy one of the biggest fireworks displays in Ohio. If you're not fortunate enough to see the fireworks from your boat or dock, Perry's Victory lawn and the seawall are great places to catch the action. Check out the Boardwalk and enjoy music to go along with the fireworks show.
Galveston Island
Watch a spectacular fireworks show over the Gulf of Mexico at Galveston Island in Texas. Before the fireworks, enjoy a twilight parade of floats and military vehicles on Seawall Blvd. and then head to the docks to catch the fireworks show.
Hosting a 4th of July fireworks watch party on your boat? Be sure to have a safe place to dock your boat. Jet Dock offers patented floating docks and walkway systems for all personal watercrafts. Upgrade your old, wooden dock today with Jet Dock.
Create Your Own!
By answering a few quick questions we will be able to tell you which dock or boat lift is the perfect fit for you.
Start Now! ▶
Tools