Knowledge Center Menu
Top 5 Spots to Fly Fish Around the World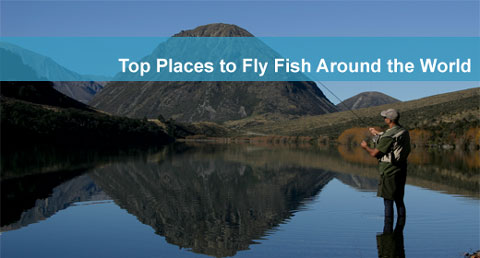 Did I teach you a thing or two in my previous article on which fly fishing rod is best for you? Oh, you think you're somethin' special now, huh? Well, you should do some more research on catching some real exotic trophies because well, you'll need it. For starters, I would check out my guide on fly fishing lures. Yeah. You're welcome. Anyway, I digress. You want to be bold, be bold and visit these top 5 spots around the world for fly fishing. You reel in a monster, who knows I might make you my skipper. (Disclosure: I've be caught and hired by fishermen to reveal the baddest fish around – yes I'm furious.)
Loreto, Baja California Sur, Mexico
Ah, yes I can remember these waters like yesterday. Beautiful warm waters full of snappers, amberjack, roosters, white seabass and more. In fact, I found my first camare in these waters, Ms. Yellowtail. Anyways, these waters are full of some "reel" monsters. I'm funny aren't I. However, you better come heavy with a plan or the heat will haunt you. I suggest fishing in the morning to experience cooler temperatures and smoother waters. Here, I'll hook you up with The Baja Big Fish Company. They'll help you out.
Alphonse Island, The Seychelles
Alphonse Island is a safe haven for a variety of runaway fish. Hosted by giant trevally and milkfish, this small inexpensive island is a fly fishers dream. I mean, have you seen giant trevally? Absolutely massive. A few of my associates were giant trevally and let me tell you they packed a punch. If you are in for a cheap yet rewarding fishing trip, Alphonse Island is right for you. You should also check out the Alphonse Island Resort, they cater to anglers (what gangbusters).
Exmouth, Western Australia
Ah, yes, the land down under. Miles of pristine flats, would make any fish happy. I hate disclosing this area but I truly like Western Australia because of the variety of fish including queenfish, giant parrotfish, milkfish, bonefish and trevallies. But, if I were in your fins, I would go here. Exmouth is also home to the legendary sailfish and black marlin. Completely off the record, these guys do not go down easy and actually took out my underboss. So, be careful or reckless, I don't care.
Ixtapa, Guatemala
This is gang fighting territory. Ixtapa has always hosted the baddest fish around including the extremely bold sailfish. They have always caused my associates and I trouble, so go ahead and snatch em' up. They can "va fa napole" if you know what I mean. There is no place on this unforgiving Earth giving you the chance to hook the amazing number of sailfish then Ixtapa.
Ascension Bay, Mexico
Last but not least, Ascension Bay is a particularly rewarding fly fishing area full of snook and tarpon. These mangrove estuaries offer amazing hideouts for some truly cracked fish. If you're in this area you will definitely need a boat to find these fish. If you need help locating the most fish laden areas, the Pesca Maya can offer you some insider information.
So, there you have it! Go catch all the bad fish around the world particularly the marlins. Don't care too much for them.
Create Your Own!
By answering a few quick questions we will be able to tell you which dock or boat lift is the perfect fit for you.
Start Now! ▶
Tools