Knowledge Center Menu
Safety Tips for Boating with Children
What better way to spend boating season then on the water with your family. The memories your children will make spending their summers on the family boat are priceless.;p>
Before you head out on the water with the family, it's important to put safety measures in place to keep everyone on board safe. There are several basic safety tips to follow to ensure that everyone has a fun and safe time on the water this boating season.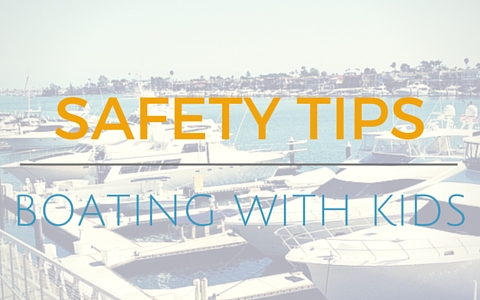 Life jackets are not up for debate
This should be an obvious safety measure but it's important to make sure that the kids know the value of wearing a life jacket. This means that life jackets are required for everyone on board, including adults.
It's also important that everyone has a properly fitting life jacket. If your kids know how to swim, then a type III rating jacket is suitable for 30-50lbs. If they don't know how to swim, they need a type I or type II jacket that has a collar. This collar forces their face upwards when entering the water. For kids 50-90lbs, a youth size life jacket is suitable and should fit snug to prevent it from sliding off in the water.
Swim lessons
The earlier, the better. The sooner you get your kids into swim lessons, the faster and easier they'll be able to master proper swim techniques including how to tread water and float. A child should be able to swim the length of a lap pool to be considered a good swimmer. These are life saving skills that your child should learn before boating in deep water.
Childproof your boat
No matter what age your children are, it's important to organize and childproof your boat. Make sure that everything has it's place and your boat is clutter free. For families with kids under 10, it's important to:

Secure cockpit doors
Lock cabin doors
Put cleaners up and out of reach
Declutter the cockpit to prevent falls
Set basic rules in place
Children should have a strict set of rules in place while out on the water. Just like at home, you should have a clear set of rules for kids to follow, adjusting for ages.

No running to prevent injury, falling into the water, and destabilizing the boat (smaller vessels)
Always keeps hands and feet on the boat at all times
In open water, never swim near the prop
Always wear your life jacket, no exceptions
Delegate responsibilities
When children get to school age, they can hold important roles while out on the water. Here are some tasks kids can be in charge of:

Help with storing gear and supplies
In charge of making sure the key is out of the ignition when swimming is in progress
In charge of weather updates using the VHF radio
Use binoculars to spot potential water hazards
No matter what age your kids are, they can always help and feel important while boating. It will also teach them the importance of responsibility and working as a team.
When it comes to boating safety, there is no such thing as being over prepared, especially with kids on board. Use this safety checklist and create your own boating safety guide for your entire family to follow.
Safety starts at shore
Whether you're out on the water or on the shore, safety should be your number one priority. At JetDock, we are committed to making sure you're safe before you even step onto your boat. We are leaders in floating walkways and docks designed to make it safe and easy for you to board and exit any watercraft. The no-skid design combined with the durability of a polyethene construction, our floating docks will keep you safe no matter the water levels or weather conditions. Safety starts before you board.
Create Your Own!
By answering a few quick questions we will be able to tell you which dock or boat lift is the perfect fit for you.
Start Now! ▶
Tools