Knowledge Center Menu
4 Ways to Improve Boating Safety
Boating is more than just a fun summer activity. It's a passion for many boat owners, one that evokes positive memories and feelings of excitement each year as the boating season rolls around. For boat owners in the south and extreme enthusiasts in the northern states, boating seasons never stops and they're always up for an adventure.
Many boat owners will tell you that safety is important to them because as a boat owner, they truly understand the risks involved in boating. Did you know that every 2 ½ hours someone is injured or killed in a boating accident according to the United States Coast Guard? As boat owners and lovers, Jet Dock is a proud supporter of safe boating and below we share 4 Ways to Improve Boating Safety.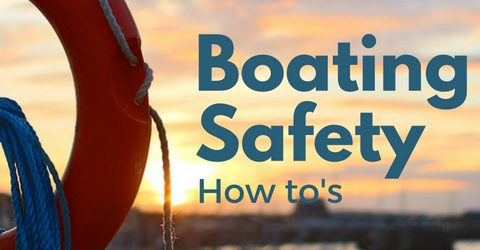 Always wear a life jacket
Wearing a life jacket can be the difference between a fatal accident and one where you make it out alive. In fact, 78% of fatal boating accidents involve drowning. Out of these drownings, nearly 84% were not wearing a life jacket.
It shouldn't be taken lightly or thought of as a fashion faux-pas. There are many styles of life jackets and everyone who is on your vessel should be properly outfitted with the correct life jacket, even the dog should get their own. Make sure that the life jacket you choose has a tight fit and always check children's jackets to ensure they have the proper fit.
Take boating courses
No matter how seasoned you are as a boater, it's always a good idea to brush up on your skills and learn about new safety tips along the way. There are a lot of boating safety courses available across the country and online that provide you with in-depth resources and knowledge. If you're a new boat enthusiast, it's vital to learn and take as many courses as needed before heading out on the water alone.
Make a pledge to take a course regularly; it could end up saving your life.
Use a dry docking system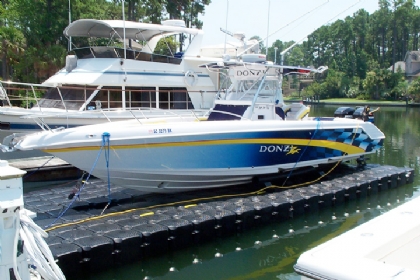 Not all accidents happen while you're out on the water, sometimes an accident can occur while you are getting on or off of your boat. Make it easier and safer to dock and board with a floating boat lift system, like a Jet Dock. These boat lifts are slip-resistant and designed with rounded edges, allowing boat owners to rest easy knowing that their boat and all of its passengers will have a worry-free experience getting on and off of the water. They're designed specifically with safety in mind, giving you ample room to board and deboard your watercraft.
Have your watercraft tested in a safety check
Each year the U.S. Coast Guard encourages boaters to get a free safety vessel check. This check will evaluate your boat and check to make sure that it is in compliance with all boating laws, both state and federal. Make sure to check out the USCG website to see how you can get signed up for a safety check near you.
Create Your Own!
By answering a few quick questions we will be able to tell you which dock or boat lift is the perfect fit for you.
Start Now! ▶
Tools