Knowledge Center Menu
Why a Hurricane Proof Boat Dock From Jet Dock Will Offer Peace of Mind
Hurricanes or tropical storms can deliver a beating to your boat if the proper precautions aren't taken. Your boat or personal watercraft is a significant investment that can get even more expensive if you find yourself caught up in a dangerous storm. Jet Dock's hurricane-resistant docks and boat lifts are specially designed to help reduce the stress of pricey repairs post-hurricane.
Whether you're thinking ahead to avoid a catastrophe or have gone through a damaging, costly storm yourself, Jet Dock's floating boat lifts can help safely secure boats the right way. The following guide shows how a Jet Dock hurricane-proof floating dock works to weather any storm.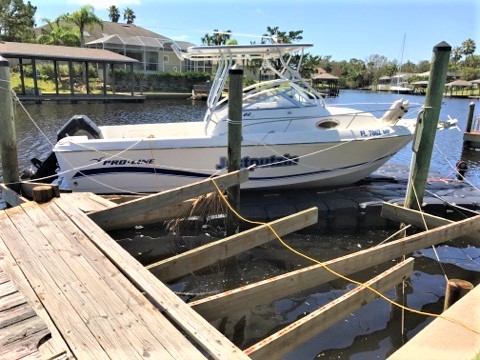 What's Wrong With Traditional Docks?
While a fixed dock may be perfect for calm, ideal weather conditions, it simply can't withstand a hurricane, especially if the dock has short pilings. If a sudden surge in the water current occurs, a boat stored on a fixed dock or boat lift will be carried away and could sustain serious damage.
If you instead decide to store your boat behind a low-lying seawall, it's still not necessarily safe. When waves reach beyond the seawall, your boat is once again in danger of significant damage. While traditional docks that are hard-fastened to the seafloor have their benefits, they aren't the best choice for docking in hurricane-prone locations.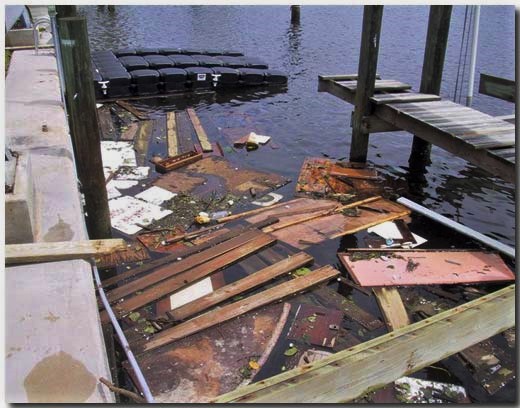 What Makes A Hurricane-Proof Floating Dock Or Boat Lift Different?
A custom hurricane-resistant dock from Jet Dock is fully portable, modular and operational in nearly any water conditions, including deep or shallow water. They have been designed explicitly with extreme weather in mind — functioning effectively through shifts in waves, tides or currents. But two key benefits set a floating boat lift apart from traditional, fixed docks.
1. A Floating Dock Can Be Easily Relocated
If a storm is approaching, you should always attempt to relocate your boat or lift if at all possible. As Jet Dock's hurricane boat lifts don't have any electrical or metal parts, they can easily be removed and stored indoors during a hurricane. This gives your boat and dock the best chance of sustaining minimal to no damage.
You should always have a storm plan in place in the case of an emergency. If you know a hurricane is imminent, take the few days before the storm hits to store and secure your boat and floating dock.
Typically, a hurricane watch means that hurricane conditions may be possible within the next 48 hours and you should begin implementing your storm plan. When a warning is put in place, it indicates that a hurricane will be happening within the next 36 hours.
2. A Floating Dock Rides The Waves
We understand that sometimes it's just not possible to relocate your dock or boat in an emergency. When this is the case, a hurricane-proof floating dock gives your boat the next best chance of minimal damage.
A hurricane-resistant dock from Jet Dock floats above the water, giving it a greater chance of withstanding strong winds and storms. The low-profile lift is designed to be quickly untied or spring-tied, allowing it to move with the current. This helps to protect your boat and reduce the possibility of damage to your boat lift.
While no boat lift is ever fully protected from the elements, our specially designed systems give you the best chance to keep costs down following a natural disaster.
Our experts will ask you several questions about the location and water conditions of where you plan to install your Jet Dock. Here are some questions that you can expect while talking without customer service experts.
Brace for Any Storm with the Help of Jet Dock
Browse our entire selection floating boat lifts today. Our systems are the safest, most user-friendly and convenient marine products on the market. Reach out today and one of our Jet Dock representatives can explain more about the distinct features and quality advantages that come with owning a hurricane-resistant dock.

Create Your Own!
By answering a few quick questions we will be able to tell you which dock or boat lift is the perfect fit for you.
Start Now! ▶
Tools