Knowledge Center Menu
Do I Really Need a Boat Lift?
New and old boat owners alike often wonder what the purpose of a boat lift is and if it's necessary to have one. Boat lifts serve a very important purpose for your watercraft regardless of your location, the size of your boat or the body of water it will be used in. In almost any situation, a boat lift is crucial to the lifespan of your boat and equipment. Here are some of the reasons why you need a boat lift.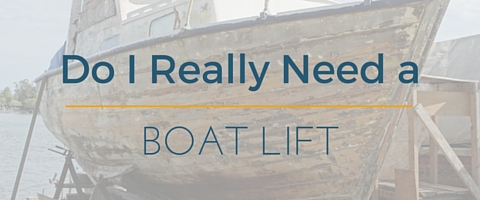 1. Boats Absorb Water
Storing a boat in the water may not seem like a bad idea, but over time, water can play a major role in the deterioration of your boat's exterior. Being left in the water constantly can cause hull blisters and lower unit wear. Algae can also attack the bottom of your boat creating scum and residue that is hard to remove. If you don't use special paint for the bottom of your boat, this can severely deteriorate the paint job.
Regardless of the investment you've made in your boat, most boat owners take great pride in their watercraft and want it to remain as pristine as possible. With a floating boat lift, you won't have to worry about scrubbing your boat's hull. In addition to being a time-saver, this also will help to maintain the appearance of the boat and improve its resale value down the road. It will also save you money over time, reducing the exterior maintenance and repair needed.
2. Fluctuations in Water Levels
Depending on where you are located, you may experience fluctuations in water levels. These can be major or minor instabilities, but they will most certainly have an impact on your boat. Leaving your boat in the water without using a lift increases the chances of potential damage caused by fluctuating water from storms and season changes. Boat lifts can help keep your boat out of the water and away from fluctuating water and debris caused by storms.
Fluctuating water levels can also have an impact on your boat when it's time to use it. It can be dangerous to try to board and disembark your boat when the water is constantly changing. A boat lift can help stabilize the movement caused by changing water levels, making it safer to maneuver on and off your boat.
3. Save Time Getting In and Out of the Water
In addition to preventing corrosion and damage to your boat, the use of a floating boat lift can also save you time getting in and out of the water. All that needs to be done in order to deploy your craft is simply driving off of the lift. Without a floating boat lift, there is likely to be several extra steps before you can enjoy time out on the water. If your boat has been in the water for any period of time, you'll need to check for debris, leaks, and cracks on the hull before launch. Using a boat lift makes it easier to do maintenance checks and significantly reduces the chances of damage. JetDock's floating boat lifts don't require any electrical parts of cranking. Simply board your watercraft and you're ready to launch.
Protect your investment with JetDock
No matter how large or small your boat is, it is a true investment that needs to be protected. When you purchase a JetDock boat lift system, you are taking the necessary measures to protect that important investment. We offer many options, from Static lifts to Multi-Hull lifts, and even Jet Ski docks, which will improve your quality of time on the water and extend the life of your watercraft.
Contact JetDock today and let us help you find a custom boat lift solution for your watercraft.

Build Your Custom Dock ▶
Create Your Own!
By answering a few quick questions we will be able to tell you which dock or boat lift is the perfect fit for you.
Start Now! ▶
Tools