Knowledge Center Menu
Top 5 Boat Activities
Recommended by The Cod Father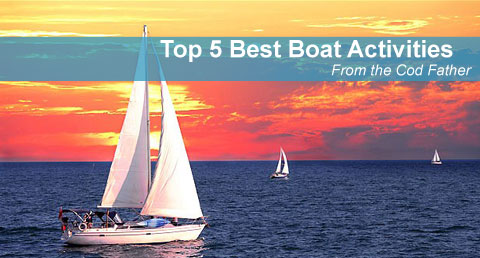 I'm The Cod Father (the official boat of JetDock), and I know what boat activities are really the best for the family. There's simply no other way to have fun; besides knocking off fish carrying mercury with my brother Vinny. These boat activities are a sure way to bring even more excitement to your days on the water:
#1 - Paddle sports
Whether you're looking for heart pounding excitement or a peaceful time with nature, this boating activity could be for you. Basically, it's all about maneuvering a vessel with a paddle through the wavy waters. The two most popular forms of paddle sports are kayaking and canoeing.
Those who want to canoe will need to sit on a seat like it's a bench. However, there are some where you'll need to kneel. For the most part, canoes are open for you to be exposed to the air. A canoe involves you to use a one-bladed paddle. While kayaking, you sit on the floor with your legs in front, and you'll use a paddle that has a blade on each side of the shaft.
#2 - Sailing
Sailing can be a lot of fun. You'll need to use the fabric (or sail) to control the movement of your boat. To manage the wind, you can change the rig, rudder, kneel or centerboard. To become a true expert at sailing (like my crew), you need to experience various wind conditions and be very aware of your surroundings. If you become good enough, you can even race us.
#3 - Freshwater fishing
Yep, fishing can get pretty hardcore. My associates do this on a frequent basis. Our mark is those fish in the fresh waters, where there is less than 0.05% salinity. This is where numerous fish are located, and we can use many methods to knock them off. Our common targets are salmon, walleye, musky and catfish.
#4 - Water skiing
This is a surface water sport, where you're pulled behind a boat. You'll be skimming the water while standing on two skis. Make sure you have plenty of room; and in order to have good balance, you need to have a good amount of body strength. If you get good enough, you can compete against my crew in speed skiing, trick skiing and/or show skiing. We're awesome, so make sure you're prepared.
#5 - Boat Racing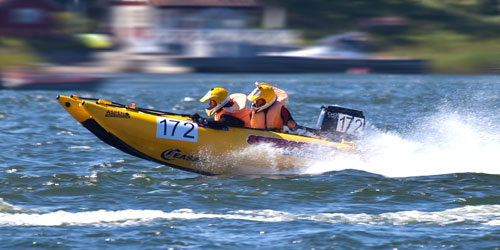 This boating activity is just like it sounds. You'll be racing against another boat. There are many types of boat racing, too – canoe, kayak, dragon boat, rowing, yacht, hydroplane, jet sprint and offshore powerboat.
Choose boat activities that are best suited for you and your lifestyle. These are the five boat activities that I'm recommending. Whatever boating activity you pick, just make sure you apply boating safety into your fun. For instance, you'll want to make it easier to get off of your boat, so check out something like floating boat lifts.
Create Your Own!
By answering a few quick questions we will be able to tell you which dock or boat lift is the perfect fit for you.
Start Now! ▶
Tools