10 Tips On How To Dock and Prepare Your Boat For Hurricane Season
Preparing a boat for hurricane season is something that all coastal residents should know how to do. Hurricane boat preparation shouldn't be left to the last minute. After all, you can't figure out what to do with your boat during a hurricane while you're staring into the eye of the storm.
Article Contents
Taking proper precautions to secure your boat and other watercraft ahead of time will give you peace of mind during a challenging and hectic period. In addition to keeping your property safe, hurricane boat preparation will keep others safe during extreme weather events. Here are ten tips to help you prepare your boat for hurricane season:
What To Do With Your Boat During a Hurricane
Wondering what to do with your boat during a hurricane? Planning and preparation are crucial. Using these ten tips, you will be on your way to making informed decisions about your own boat's hurricane preparation.
1. Stay Informed
Knowing when hurricane season is approaching and staying updated on the latest procedures for your area are paramount. Follow the news and weather reports and make sure that you are aware of changing weather conditions and potential hazards.
2. Stay Alert
During hurricane season, once weather reports have begun predicting adverse conditions, you should begin taking the necessary precautions. The time to prepare your boat for a hurricane is weeks ahead of any potential evacuation orders. In addition to securing your home and other property, boat hurricane preparation requires enough time to be done with care and planning.
3. Plan Ahead
Speaking of planning, you should make one. Start with a checklist of all the steps you need to take to prepare your boat for a hurricane. Do a practice run so you have a rough idea of how long it will take to complete all of the items on your checklist. This will also help you discover any additional steps that need to be completed during your hurricane boat preparation.
4. Obtain Adequate Insurance
Insuring your boat in case of unforeseen hardship is a sensible choice to make. Even with the proper amount of hurricane preparation, your boat can still be damaged during extreme weather events. Insuring your property is a reasonable step to take and should be near the top of your list.
5. Use a Hurricane Boat Dock
A hurricane boat dock is most likely able to cope with the conditions caused by hurricanes. This includes high winds that cause extreme storm surges and flooding. A hurricane-resistant dock will incorporate mooring techniques to help the hurricane boat dock move with the current and rising water levels, keeping your boat from dashing about or sinking.
The critical element to your hurricane boat dock is that it is a floating structure that is flexible and non-rigid to avoid shattering while being tossed about. See your owners manual for preparing your hurricane boat dock in advance of an oncoming named storm or hurricane. Untie your hurricane boat dock and spring tie it with long lines and adequate slack. This will allow your hurricane boat dock to ride out even the wildest tidal surges and floods.
Using a unique mooring system, hurricane boat docks move with the current and rising water levels to keep your boat out of the seawater.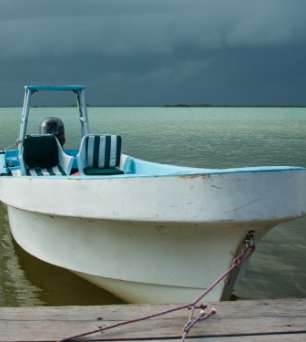 6. Do Not Use a Fixed Dock
Fixed docks and boat lifting devices are static structures that don't do well in the dynamic weather conditions caused by hurricanes. A fixed dock is ill-prepared to handle the swells and extreme tidal surges that arrive with hurricanes. A conscientious hurricane preparation plan should avoid using rigid structures around water as much as possible.
7. Bring Your Boat Ashore
While hurricane boat docks offer additional assurance your watercraft will survive, nothing beats bringing your boat ashore and stowing it inside a weatherproof structure. Placing your boat indoors in a hurricane-rated facility and, if possible, far away from coastal waters will eliminate risk factors and keep your watercraft protected from complications caused by excessive flooding and high winds.
8. Remove Equipment
If you are securing your boat on a hurricane boat dock, remember to remove any equipment that isn't part of the hull structure of the boat. Remove life vests, cables, GPS systems and other electronics. Secure and remove all canvas as it will likely get destroyed. Detach small outboard motors and place them into secure bins. Make sure that everything is stowed away properly.
9. Secure Your Boat
Whether you are moving your boat inside or securing it to a hurricane boat dock, you will want to secure your boat with durable lines or ratchet straps to prevent harsh wind and tidal surge from tossing it about and sinking it.
10. Stow in a Secure Location
For our purposes, a "secure" location would be any building or structure above the storm surge line that provides adequate shelter and durability. That could be anything from a detached garage to a family barn or a storage lot. As long as the building provides adequate protection from the elements, it is often the best place for you to store your boat during a hurricane.
Get a Hurricane Boat Dock for Your Watercraft From Jet Dock
Year-round enjoyment of boating doesn't have to sacrifice extreme weather preparedness when you use a hurricane boat dock from Jet Dock. Our hurricane boat dock provides 24/7 functionality with the added benefit of providing storm-related peace of mind. Preparing your boat for a hurricane shouldn't happen at the last minute. Find your dock online today using our simple tools.
Contact Us