Product Photos
Interested in this double jet ski lift? Let's talk!
Call us at 1-800-538-3625 to speak with a knowledgeable Jet Dock representative.
Universal Twin Personal Watercraft Dock
Dry docking your personal watercraft (commonly known as jet-skis) can be simple and inexpensive with the JetDock Universal Twin Personal Watercraft Dock. The Universal Twin PWC Dock is 10' wide by 160" long with our patented drive-on ramped design. Completely modular, expandable and portable to adapt to your watercraft needs. Protect your investment in your watercraft with our dry docking system. Our Universal Twin PWC Dock also comes with back-up safety winch system for dry-docking disabled craft. Keeping corrosion at bay has never been easier. Contact us to find out more about your fully customizable dock!
Standard Twin PWC Lift Features
Assembled & Ready To Use
Lifetime Limited Warranty
Durable High Density Polyethylene Construction
Patented Drive-On Ramped Design
Patented, Modular, Changeable Configurations
Non-Skid Surface
Expandable Walk-Around Space
Perimeter Tie-Off Cleats
Provisions For Security System
Dry, Self-Bailing, Water-Draining Deck
Twin Jet Ski Lift Diagrams & Technical Schematics
Select the thumbail to view larger image.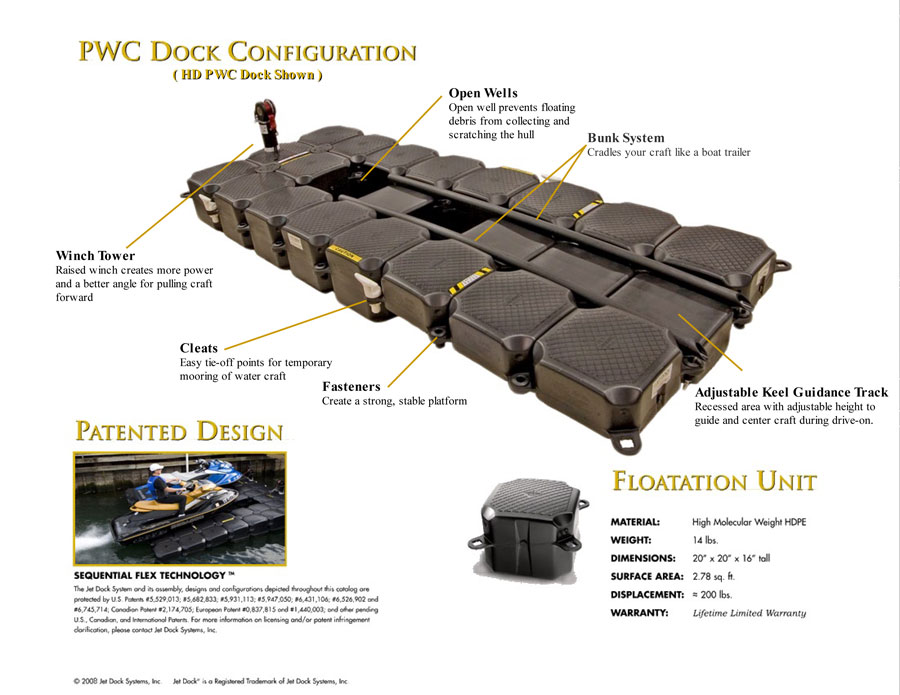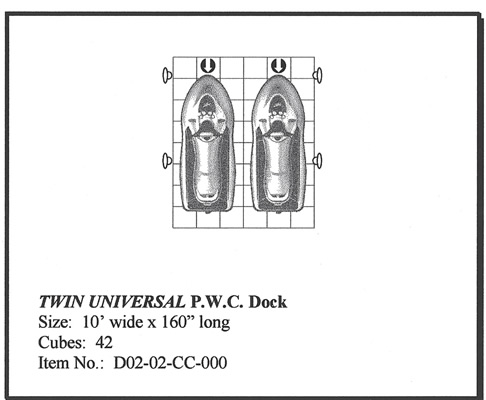 Other Jet Ski Lifts & PWC Docks
Not sure what you need? Use the jet ski dock and lift finder! ▶
Create Your Own!
By answering a few quick questions we will be able to tell you which dock or boat lift is the perfect fit for you.
Start Now! ▶
Tools