Economy PWC Lift Photos
Interested ina jet ski lift? Let's talk!
Call us at 1-800-538-3625 to speak with a knowledgeable JetDock representative.
Portable PWC and Jet Ski Dock
The Economy PWC and portable jet ski dock are ideal for small spaces for marinas and waterfront properties. It safely fits your personal watercraft with expandable sides for walk-around space. Made from a high-density polyethylene material, the portable jet ski dock has no electrical or moving parts so that there is almost no maintenance, giving you the freedom to be on the water longer. The patented drive-on ramp allows you to quickly and easily launch and dock your PWC while the self-bailing, water-draining deck keeps your watercraft dry and does the rest.
Customize your economy PWC jet ski dock with our dock finder tool.
Standard PWC Lift Features
Assembled & ready to use the day you get it
Lifetime Limited Warranty
Durable high-density polyethylene construction
Patented drive-on ramp design for easy launching
Modular changeable configurations to fit multiple PWCs or expand the walking deck
Non-skid surface for safety
Expandable walk-around space
Perimeter Tie-Off Cleats
Provisions For Security System
Dry, Self-Bailing, Water-Draining Deck
Portable Drive-On PWC Lift Diagrams & Technical Schematics
Select the thumbail to view larger PWC lift.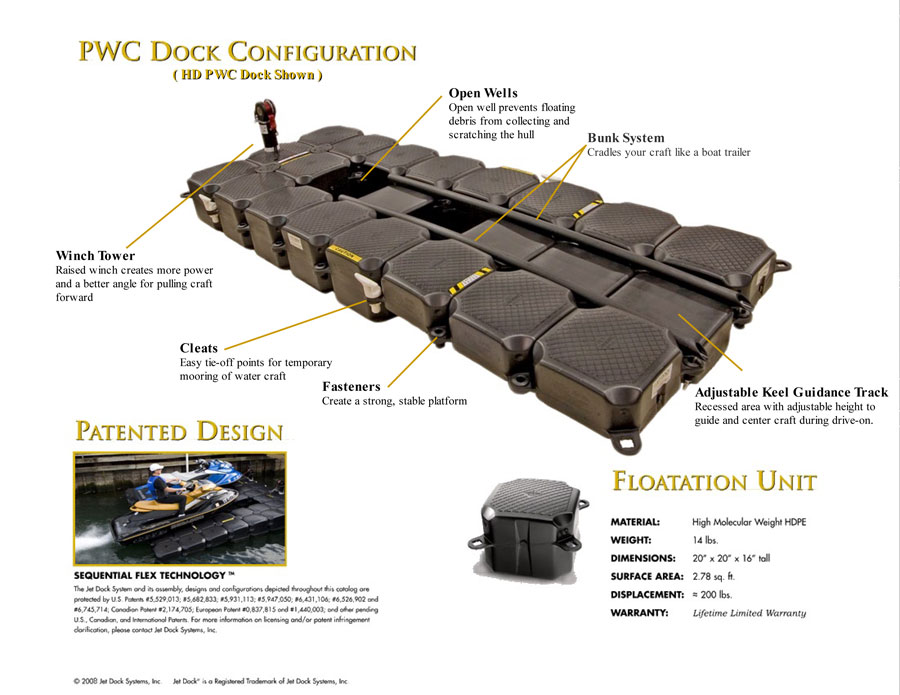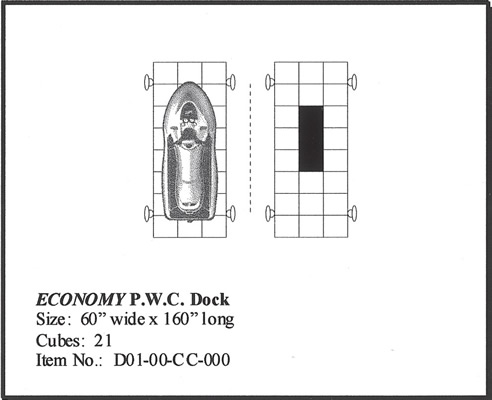 Other Jet Ski & PWC Docks
Create Your Own!
By answering a few quick questions we will be able to tell you which dock or boat lift is the perfect fit for you.
Start Now! ▶
Tools